To avoid unexpected issues, hassles of sudden breakdowns on the road is very important to get your car serviced at the right time. Also to not to waste of time and extra money on repairs following the maintaining the process instructed by the manufacturer is vital. Therefore, instead of focusing on replenishing the washer fluid of the windshield or filling your fuel tank, you should also focus on the time for a car service. The best way to strike a balance between the two is to refer to the vehicles manual and make a plan for your car service. The well-known 3,000-mile marker is actually a myth. Typically, cars should be serviced after every 5,000- and 10,000-miles range.
Get an Insight of the Benefits of Timely Car Service
Generally, car service is a time-consuming process and can also be an expensive one if there are major issues in your car to resolve. However, this time and money invested in it will not go in vain. It will provide you with lots of benefits and return both in the short as well as in the long run. A little inconvenience now will pay off well later.
Assured safety: One of the most significant benefits of a timely car service is safety that is assured or restored if necessary. Your car will be in a drivable and safe state thereby increasing the reliability.
Help to Avoid Unforeseen Incidents: You will be able to avoid unforeseen incidents such as a breakdown and avoid being stranded on the road at odd hours!
Lower the Cost: You will also save a lot of money on major repairs because all issues will be rectified at its initial or budding stage at low cost.
Enhance the Car Value: Periodic maintenance and service of your car will fetch you a much higher value in case you want to sell off your old care to make a place for a newer model.
Basic Service Checklist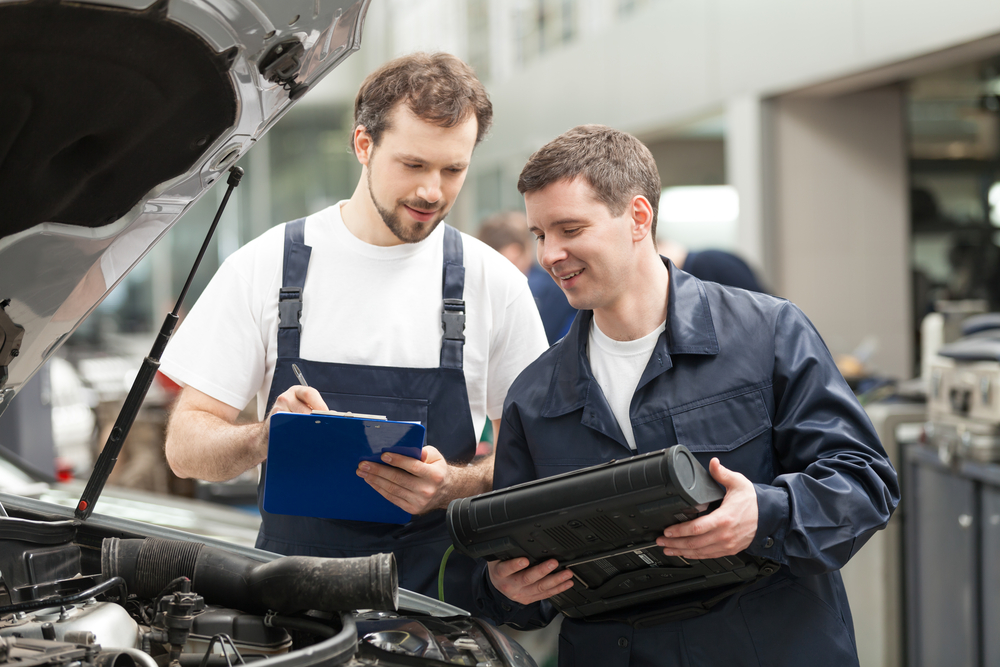 In order to know when you should take your car for a professional service, there is a basic checklist that you should keep handy and follow. Anything unusual noticed indicates for a car service.
1) Basic Car Safety Checklist
The basic car safety checklist includes seatbelts for belt tension and buckles operation, external lights for a bulb for replacement, handbrake that holds the car on a slope, windscreens and mirrors for cracks, windscreen wipers blades for replacement, one operation, tires for correct pressure and tread wear and Toolkit, jack and spare tires.
2) The Light Checklist
The light checklist includes headlights, brake lights, reverse lights, indicators, hazard lights, and park and fog lights. Also check the radiator hoses for leaks and cracks, engine air filter, corrosion on battery terminals, fan belts looseness or squeaking, unusual engine noises and child seat anchors.
3) The Fluids Checklist:
Engine oil
Brake fluid
Windscreen washer fluid
Clutch fluid for manual cars
Radiator coolant
Power steering fluid
Gearbox oil and
Differential fluid.
Finding the balance between the time and need of car service is made even more complicated by the fact that the car repair specialist and consumer reports offer diverse opinions. However, it is vital to remain cautious and take their car to the repair shop long before the recommended time interval or mileage. If you spot any issue avoid trying to fix any of it on your own. Rather take your car to a local car service station to get it done. This will prevent further damages to your car and get the job done correctly by a professional.