Samhain a community of people celebrates Halloween. It is a Celtic festival, Samhain people used to celebrate in order to keep the ghosts away. They used to burn a bonfire and dress in different costumes to keep away the ghosts and all evil powers.

Celebrated on 31st of October, it is usually celebrated and people have a holiday on the Halloween, a night before Halloween, devil's night is celebrated.

Each year, from little kids to high scholars to grown ups all dress up in the most haunted and awesome dresses they could muster and celebrate Halloween with a bundle of excitement.

The most difficult task for people each year is to look unique, how can you expect to dress up the wildest from the same person every year. So to avoid that confusion, we will give you a few dress which you can mix and match and come up with epic Halloween costumes.

BIRDS OF PREY: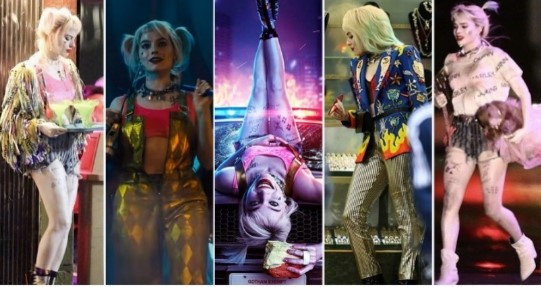 Birds Of Prey, is a DC comic movie, featuring a bunch of DC comic heroines all placed at one place and left alone to fight crime in Gotham city. Everyone else, except for Harley is typically sane and doesn't want to do anything with Harley. This year as the birds of prey releases you can wear the costumes worn by the four divas in the movie. Harley's PVC jacket paired with something bright would look absolutely cool. Other than that you can pair up the Huntress, Renee Montoya and Black Canary's dress for this Halloween too.

SCARY PURGER MASK- BEST FOR HALLOWEEN:

A new mask with creepy smile and two crosses for eyes has come out recently and is being called the Purger mask. This mask was originally worn in the movie 'the purge', which is a horror movie. The movie is set in future where just like Halloween, a holiday is celebrated but instead of wearing whole costumes, they wear masks and for 12 hours straight every crime becomes legal including murder. You can wear this scary looking mask paired with entire black dress to make it more haunted.

BLACK WIDOW:

It too, is an upcoming movie featuring a woman named Natasha Romanoff, who is highly trained and can best you to pulp. She has special training and courses done and she is now a freelancer, who takes projects for different people. Natasha is seen in sexy cocktails dresses as well as skin tight jeans and shirts with Top Gun Maverick Jacket. You can also wear a wig to look ginger like her too. She wore leather pants and white leather jacket in the movie too, so you can look like an angel as well.

FORTNITE:

It is a video game recently updated. If you are a gamer and so are your friends you can look extremely unique by following a theme like; Fortnite Jacket. Ask your friends to pick a character each and then you can choose the dressing for yourself and them easily. This way you will all be dressed uniquely for 2020 Halloween.

IT COSTUME:

If you're inspired by clowns and you also like horror movies and shows, IT is the ideal joker to get inspired from Movie Jackets. He looks scary and his dress is weird and haunted, plus his make up is easy to copy too. The suit has twirls and frills around neck, hands and legs which while moving becomes even more scary.

SPIDERMAN COSTUME:

One thing, that is believed to never go out on Halloweens is, people wearing super hero costumes. You too can dress your kids in a super hero costume or you, yourself can dress up in a spider man costume for the sake of Halloween. Don't think that you will look ridiculous because Halloween is the occasion to dress up however you want to.


DESCENDANTS COSTUME:

Kenny Ortega has given a chance to the kids of the villains. It's not necessary that all the villain has birthed bad kids thus they are all given one chance to attend a prestigious school. They are all villain's kids so they have a typical style to dress themselves which works in our benefit as it all fits the halloween costume criteria. You can try the dress of maleficent's kid or of Jafar of Cruella and many other Disney villain's kids are introduced too like evil queen and more.

CLOWN COSTUME:

It's not necessary to only follow IT movie's clown costume. There are so many other movies with clown as their primary scary villain that you can follow them up too. You can find different funny clown costume and do scary makeup on it to maintain the Halloween vibe.

CONCLUSION:
All in all, Halloween is the most awaited event of every year, so people start preparations months before it actually arrives Leather Jackets. All you are advised is to be prepared and you can consult the above costumes to do preparations.